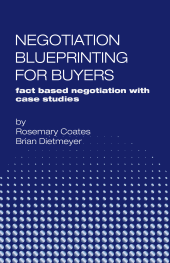 Since the 1980's industrial buying has gone from getting three quotes and executing a three-part carbon paper Purchase Order typed on an IBM Selectric typewriter, to a sophisticated electronic environment where information is available at the buyer's computer command. With the introduction of ERP systems buyers can now assemble historical buy information, supplier history and performance, develop RFPs, RFQs and enable reverse auctions. Electronically, buyers can exchange offers with suppliers and transmit Purchase Orders via EDI. Procurement is now taught at the undergraduate and graduate levels as part of Supply Chain Management programs at universities around the world. Students emerging from graduate programs are more strategic thinkers and have a much broader understanding of business as ecosystems.
Sellers are also getting more sophisticated. By doing online research, they have a much better understanding of their competition and of their company. They can quote from your annual report and cite your CEO's direction for the near future. Through email they may be talking to many other people in the company, selling to the business and bypassing Purchasing like never before. They too, are better educated and sell value-based solutions. Gone are the days of taking buyers to lunch and expecting a purchase order in return.
And finally, deals have changed. Today, deals are rarely about just one price for one product. Buyers now find themselves buying products and services that include software, maintenance agreements, training, field service, supplier-managed inventory and a host of other things. Requirements are based on tight forecasts, Sales and Operations Planning (S&OP), and Lean principles. Buys are likely to be international, whether the buyer is purchasing from a local distributor or buying directly from overseas. Internal buying is complicated by currency, culture, communications and global time zones. All of this means more complexity in every buy as well as many new opportunities for far better negotiations.
With all this said, I am excited to announce a new book on the Procurement side of negotiation has just been completed and will be released early in February. I was honored to co-author this book with Brian Dietmeyer of Think! Inc. The book is called, Strategic Negotiation for Buyers - fact based negotiation with case study examples.
This book is written by two people with 50 plus years of experience on both the buy and sell sides of deals. The benefit to readers is an understanding of holistic thinking and analysis based on multiple internal customer needs on the buy side and multiple stakeholders on the sales side.
Purchase this book now by clicking on the book image.