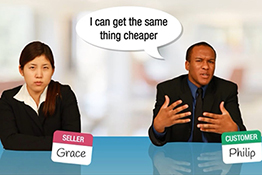 Q: Are you sick of hearing these 10 words from your customers?
"I can get the same thing cheaper from your competitor!"
Or, when the customer says,
"We want you to match the 10% discount offered by the competition."
As a sales executive, you know too well,
when negotiating on price
…
Buyers treat your brand as a commodity
Your sales reps run to their managers to get quick price discounting, thus…
You have to 'buy the business' to make the sale
And your sales cycle lingers on, taking too long
With potential buyers seeing you the same as everyone else. Because you sound like everyone else. They made it about price. And your reps are unable to change the conversation.


Read More