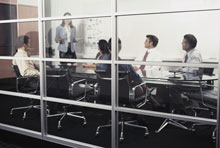 Have you every arrived for a negotiation meeting to discover that there are people whom you have never met from the client's side ready to be involved in the negotiation? Have you ever been given a specified time period (usually 1 hour) for the negotiation and find that almost all of the time is spent on the 'wrong' discussion?
These are just a few good reasons why preparation for the negotiation meeting is so necessary. While you may have been involved throughout the lifecycle of the deal, preparation for the negotiation meeting is critical. No doubt you do know a great deal about this negotiation. Preparation for the negotiation meeting differs from the effort you have made throughout the deal. This effort is very important to help you to prepare effectively for the negotiation meeting.
Preparation needs to include:
to the best of your ability, confirmation of who from the client organization will be involved in the negotiation meeting
ensuring that you understand the role of each person involved in the negotiation meeting
preparing and forwarding an agenda for the negotiation
completing all internal negotiations in advance of the negotiation meeting
being fully aware of the time allocation for the negotiation
after developing and titling your Multiple Equal Offers (MEOs), rehearsing how you will present these
rehearsing to ensure that the presentation of your offers is clear and concise

and leaves time to discuss / negotiate with the client

assigning everyone from your side a 'role' during the negotiation

ensure that one of the assigned roles is Scribe to capture all key discussion points, particularly any points made by the client representatives

anticipating any client push-back or concerns

consider the decision criteria for each key stakeholder
rehearse and be ready to discuss each point

practicing how you will summarize the negotiation meeting discussion

be ready to 'close' the deal
be prepared to discuss next steps ... whether to revisit the negotiation key points or to move to sign the deal
Preparing for the negotiation meeting is just as important as the preparation that you give to understand the client's needs and your determination to link your value to what is important to the client. Excellent preparation can make all the difference to the outcome of your negotiation!