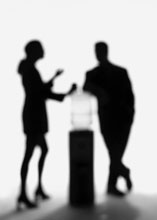 Sometimes when a customer chooses 'No Decision / Business As Usual' they are making the right decision for their organization at that specific time. Typically customers evaluate each potential project or initiative (either to address a problem or to act on an opportunity), prioritize the projects, and allocate available funds and resources according to project priority. 'No Decision / Business As Usual' results when the proposed project does not reach a high enough level of priority.
But sometimes 'No Decision / Business As Usual' is just the fall-back option. The customer might believe that it is too time consuming, or too resource intensive, or possibly too confusing to make a decision right now.
And sometimes, the customer makes 'No Decision' preferring to stay with 'Business As Usual' because they believe that the consequence of no change outweighs the impact of making a change.
Yet think about it this way, in most of the scenarios above, the customer is actually making a decision. They are making a decision not to address a problem or act on an opportunity.
When a salesperson uncovers that customer's preference in a particular opportunity is 'no decision / business as usual,' then, when conducting a Consequence of No Agreement (CNA) analysis, the salesperson needs to consider the customer's CNA from the 'no decision / business as usual' point of view. Often a salesperson will consider criteria that a customer has not considered or uncover criteria that the customer might not be aware of.
Sharing a CNA analysis with the customer is a great way to verify your understanding of the opportunity from the customer point of view while diplomatically educating the customer of criteria they may want to re-evaluate or criteria that has not been part of their thinking to date. This discussion can go a long way to change the conversation with the customer, to help both sides to learn more, to help emphasize the differentiated value of your solution from 'business as usual,' and to further establish your credibility.