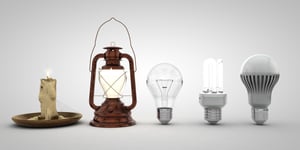 THE INVESTMENT
According to the Journal of Personal Selling & Sales Management, American corporations spend $7.2 billion every year on sales process, account management skills, negotiation, and opportunity management training—an average of $347,000 per company. However, beyond proprietary (and perhaps biased) consultants' reports and high-level academic papers on change, little information is available on whether those making investments are achieving a return that is at least equal to—if not better than—what they are spending.
We are inclined to think that ROI is highly unlikely given the CSO Insights report that stated: only a quarter of reps consistently use their company's accepted methodology more than half the time, only 10% resolutely (greater than 90% of the time).
IT'S TIME FOR REAL CHANGE
The simple fact is that selling has evolved faster than the solutions that support it. As we are all aware, selling began as a personal relationship process. It then evolved to a point where the sales rep became a keeper of information relative to products, services, specifications, and other kinds of data. Today, however, since that data is readily available from a variety of sources, including online and peer networks, the salesperson is no longer the keeper of information. The salesperson's job now is to:
Help the customer improve purchase decisions by selecting suppliers best suited to help the customer's organization achieve their goals.
"The problem with many sales organizations is they still operate with the same principles and techniques they were using in the 60's, 70's and 80's. While the technology supporting sales process have clearly evolved, the traditional sales strategies proffered by sales gurus 20 or 30 years ago have not kept pace with market needs. They are not nearly as effective as they once were, and...in most cases they are obsolete."
- Forbes
Twenty-five years ago, when formal sales processes were introduced, selling changed from a practice based on individual skills to one based on a corporate process that virtually anyone could learn to use. That is, it discredited the idea that salespeople were born rather than made, and it was a breakthrough at the time. Even today there is a wide-spread belief that using common language and processes in selling provides an organization with certain benefits, including higher margins, faster sales cycles, and more revenue, among others.
The reality, however, is that using such processes in which salespeople "fill out a sheet on their account," often is just continuing the use of a process that doesn't work. The reason for this failure is that using a generic process and blank forms is essentially zero-basing each deal; it requires each rep and front-line sales manager to recreate the same inputs over and over. Furthermore, incorporating the process into an organization's customer relationship management system, which many companies have done, only serves to make a suboptimal process work faster. In fact, in a study we conducted with the Strategic Account Management Association (SAMA), global corporations reported only a 2% increase in effectiveness after such "process" training.
WHAT DOES THE FUTURE LOOK LIKE?
What salespeople need today is data that drives insight into the value of their solutions and how it applies to achieving the customer's business objectives better than alternative solutions.
This is a fundamentally different role and requires consultants who provide these sales methodology and training solutions, sales leaders who buy them, and sales reps who sell, to completely re-think the nature of connecting front-line sales efforts to corporate business strategy.
In working with many Fortune 100 procurement organizations internationally we have found that approaching selling as assisting the customer in their decision making is much more in line with the way customers buy. Virtually every purchase decision, even those of seemingly commoditized products and services, is made using a weighted attribute decision matrix. That is, most of the purchasers have completed analyses of multiple internal stakeholder needs as they relate to the purchase, weighted them according to their importance, and then scored suppliers against one another across multiple criteria. Thus, the company that helps guide a potential purchaser in making that decision is more likely to be chosen from among its competitors.
Sellers are not prepared with the granular insight to lead this process and that puts them in a reactive mode.
As a first step, what salespeople really need is not more processes but more data, that is, more information concerning their customers' needs and how they can meet those needs better than the customers' alternatives. When people consider that customers all have different needs, and that both the solutions a supplier provides, and its alternatives have wide ranges providing this data may seem daunting. However, when needs, solutions, and alternatives are viewed from a high enough level, it becomes obvious the issues that must be dealt with fall into very specific and repeatable patterns within those categories. And while these areas may change with different customer verticals or solution types, they continue to be similar.
DON'T BELIEVE ME?
While differences do occur, we found that tracking the attributes of deals over time enables sellers to see that 80% of the time they follow clear patterns. And since these patterns can be anticipated, they can be leveraged which creates greater organizational learning, faster new rep ramp-up, more customer value, and higher returns for the organization. This is the key to shifting from simply selling to helping customers make better decisions and creating more value for both sides in any sale. In fact, it is recognizing and understanding these patterns, and making sure a company's salespeople know how to leverage them, that allows organizations to create more business value and be compensated for that value in both better prices and more equitable risk sharing.
And what is the alternative? From our work with sales leaders and sales teams, what we often see are people who have been trained in processes that include as many as twenty steps at each stage. While the need for many of these steps and stages is clear, given the day-to-day challenges of most sales reps and front-line sales leaders, complicated processes like these often don't work. If further proof of the problem is required, consider the recently published book, The Truth About Negotiations by Leigh L. Thompson, a professor at the Kellogg School of Management, which identifies fifty-three such truths. How can salespeople execute and sales managers coach against fifty-three negotiation truths and twenty steps to qualify an account?
RECOMMENDED SOLUTION
It's time to change training programs so that rather than concentrating on generic processes they concentrate on installing data that can be used by salespeople. This will make the process not only easier to follow but more likely to result in success. Toward this end, training needs to focus on the two most important aspects of the process:
•determining value •
being compensated for that value
What's needed, accordingly, is a new definition of value that will resonate with both salespeople and customers. Thus, value is defined as meeting a customer's needs—at multiple strategic and operational levels—better than their alternatives, at this moment in time and requires sellers to provide customers with available supporting data. In fact, doing business in the twenty-first century is all about helping customers make decisions by enabling them to understand the criteria they need to be using to make those decisions. When these ideas are used together, we call this: value-based decision making and sellers who can support this most effectively for their customers will benefit greatly.
For a deeper look on this topic download the full article.