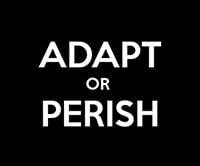 B2B buyers are now mimicking B2C buyers. We are all aware that the role of retail salespeople is dwindling as buyers buy online. All the information is out there in terms of what everybody else thinks of the product, its features and benefits, how users perceive it, how your service is rated, etc., so we no longer need that sales rep.
The role of the B2B salesperson has to evolve or face a similar challenge. We've spent the last five years designing, building, testing and refining a new approach to sales enablement that will help sellers re-gain their rightful place with the new digitally enabled buyer. Below is an overview of that process.
As sales executives, what we now need is:
Content and tools that engage the buyer and add value to the buyer journey at every step of that journey.
Keep these facts in mind:
Many things salespeople would provide to Buyers are now available online.
Buyers are actually diagnosing their own needs and prescribing their own solutions.
They are waiting until the last minute and 70% into the buying journey before reaching out to us.
Buyers recently ranked sales almost dead last (9th out of 10) as a resource they reach out to for insight.
Win rates and percentage of sales goal achievement are at a 5-year low.
Legacy Approaches
Marketing was supposed to help Sales with content and yet, the American Marketing Association reports that 90% of that content is not being used.
Why is this content not being used? Mainly it's product focused and not focused on the buyer journey.
Traditional, generic training methodology focused on zero-based discovery is out of step in this new world.
The Good News
Buyers at the 70% level prefer sellers who help them create a vision vs. just fill the order.
Buyers will engage with their salesperson earlier in the buying journey if and when we are perceived as adding value to their process.
Buying decisions have become very complex with almost seven stakeholders per buy, and buyers want (and need) help navigating through this.
What is Needed (or How to be a Good B2B Salesperson!)
In the simplest sense, sales now needs content that engages and improves the buyer journey at every step of their process; from understanding needs to evaluating options to making a final decision. Here's how we can help them in their various stages to:
Understand market shifts that should impact their sourcing approach.
Identify and understand the needs of many cross-functional stakeholders.
Identify current as well as any undiagnosed needs.
Map the overall effectiveness of various solution options and approaches.
Choose the solution that provides the highest value.
What we've learned over the last five years developing what we call Precision Guided Selling are a few key truths:
Sellers need to see this content as a competitive weapon and proclaim, "Wow, this is really going to help my customers!"
Buyers need to see this content and proclaim, "Thank you. We really do need to take all of this into consideration."
Content needs to map to each and every stage of the buyer journey.
Content needs to be integrated rather than scattered pieces of a puzzle in many different functions and/or processes.
To be used effectively, this content must be in ready-to-use formats and housed all in one place. (email, telescript, presentations, proposals)
If you'd like to learn more about how we can help your sellers not only catch-up, but lead, drop me a note.