POP QUIZ!
Question: Who is the toughest negotiation opponent you'll ever face?
Customers demanding concessions
Procurement
Competitors buying share
Your peers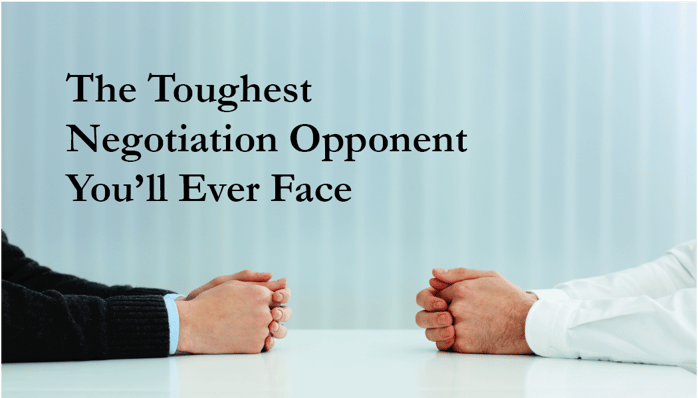 Answer: According to Harvard Business Review (based on studying over 40 companies), the answer is D. Your peers.
Your peers? Yes, internal deal negotiations. Too often when we think about solving negotiation challenges we think about the skills of the reps. For sure this is an issue and needs to be addressed, however for most organizations, this is not the primary issue.
AUTOMATING A BROKEN PROCESS
Training reps is about negotiation process, HOW do we negotiate. When it is determined that it is time to invest in improving a sales team's negotiation skills, what is often overlooked is the training of the organization, or the building of organizational negotiation competency.
Think about it this way, your internal negotiation/deal approval process is the outward manifestation of your negotiation strategy, it is what you want people doing on the street. If negotiation skills are improved but the organization negotiation strategy isn't, we're simply automating a broken process.
The HBR article, reinforces what we have seen with most of our clients. Which is:
Deal approvers represent multiple silos with different goals that are misaligned and do not look at the risk / reward of the deal holistically.
FIXING DEAL APPROVALS
Typically, organizations take one of two approaches to negotiation strategy/deal approval (permission or forgiveness):
Highly decentralized: let those closest to the deal make negotiation decisions. While this results in faster and more creative approaches to deal making it also results in wide deal variance.
Highly centralized: internal deal approval process goes to those stakeholders who own commercial and legal terms. This results in tighter variance but slower, less creative deals by those disconnected from the customer.
What we suggest is the middle ground, "highly centralized strategy with highly decentralized execution." What we have seen is this can be addressed and the process improved by:
Identifying all the stakeholders who own commercial terms, legal T's and C's, SLA's etc.
Determining "ranges" these stakeholders are comfortable with, e.g. range of pricing between 4-8% discount, etc.
Delivering those ranges in a tool* where your reps have access to anytime, anywhere
(This one is key in our organization) Allowing deal makers to cut whatever deal they want if they "stay within pre-determined guardrails." Most of our clients still have their reps submit deals through the deal approval process, but at this point, their suggested deals go into the deal approval process already within the parameters provided on the priorities of the internal leaders who own them.
This middle ground approach results in faster deals, tighter variance, making salespeople more competitive on the street and an overall improved deal approval process.
To learn more about our thoughts on the deal approval process and internal negotiations, take a look at our white paper entitled, The Evolution from Sales and Negotiation to Value-Based Decision Making.
* Think! Inc. Negotiation Tool
Available as standalone or embedded in SF.com
Built in the cloud to give reps access anytime, anywhere
Negotiated items and their ranges can be updated real time, 24/7
Business rules can be set that inform either the negotiator or their manager when an item falls outside a prescribed range
Trade pairs, those items that are tied to one another can also be scripted (e.g. You can't negotiate price without volume commitment etc.)
Want to learn more about our tool or improving your internal negotiation strategy and process? Give me a call or send a message. Go to the About Think! link at the bottom of this page and then click on contact.