Where will your training dollars be spent in 2012? Will you achieve a high return on investment from those dollars?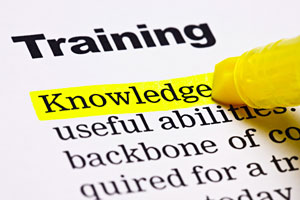 Using information gathered from a "best in class" survey, follow-up interviews and focus groups, we determined the most successful companies share three distinctive and disciplined practices.
1. Sales training directly linked to corporate growth strategies
Rather than executing sales training simply for the sake of training, these organizations recognized that sales training can and should be used to strengthen core sales competencies that directly enable key aspects of growth strategy.
2. Strong executive sponsorship
Senior executives in sales, as well as other functions, sponsored and got directly invoved not only in funding the initatives, but attending workshops and using the methodologies.
3. Coaches who measure and are measured
Field sales management not only formally measured those who reported to them but were, in turn, formally measured by those to who they reported.
Considering the massive amount of priorities given to sales management and salespeople, even all sales training is not created equal. There is only so much bandwidth for the sales team. Only those sales training events directly linked to enabling an aspect of corporate growth strately should be held to a world class implementation standard and subject to the three disciplined practices that drive implementation.