Selecting the right sales training provider for your organization can be a challenging and complex undertaking. Choose the right one, and your sales productivity accelerates. Choose incorrectly and your organization loses time and money.
ESR is the leading, independent authority on sales training programs, sales methodologies, and tools—and the training companies that provide them. Their extensive understanding of the industry allows them to see beyond promises and promotions, and assess the real, practical details about an individual provider's programs, capabilities, experience, and approach.
Think! Inc. was recently evaulated by ES Research Group and we'd like you to review their findings. Just click here to enter your email address to access the report.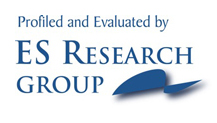 ES Research Group maximizes the value of the relationship between the sales training buyer and the sales training provider through our knowledge base, experience, and guidance in making the right decision.