Before you can understand the process, you're going to have to start thinking differently about what negotiation really means. The traditional view of negotiation is promising, cajoling, threatening or using any of a wide variety of tactics to get what you want from another party. Negotiation, however, begins long before you sit down with someone to work out the terms of a deal. It starts as soon as you select an account and start selling and / or managing the account relationship. This is all negotiation, and redefining it as a process is what leads to world-class dealmaking.
In any business negotiation, the other side always sees your offer as a gain or loss based on their perception of the consequences of not reaching agreement with you. Note that I said the other side makes a decision based on its perception of the consequences. The truth is that in most negotiations, one or both sides either hasn't taken the time to analyze its consequences of no agreement, or has misunderstood those consequences.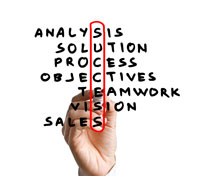 At it's most basic level, a Strategic Negotiation Process is a step-by-step system that enables you to blueprint a negotiation, making it possible for you to see and understand a negotiation from your own perspective as well as that of your customer.
What's a blueprint? It's essentially a picture of the entire negotiation revealed when each side of any deal answers the following two questions:
What are the consequences if we do not reach agreement?
What items are likely to be included if we do reach agreement?
Consider that it's not unusual to see situations in which neither side has a clear idea of what they really want out of a negotiation beyond one or two simple items. The power is in the two sides working together.
If you're interested in further information about a strategic negotiation process, I highly recommend this Strategic Account Management Association (SAMA) Velocity article, entitled A Strategic Negotiation Process. This article focuses on the tactical pull-through of a negotiation strategy one deal at a time, using a negotiation process.