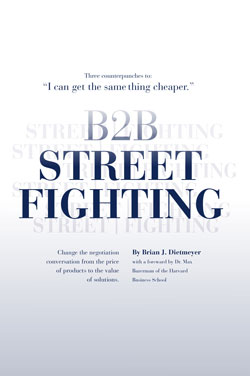 The Washington Post is one of America's leading daily newspapers, whose online edition reaches an average of more than 10.4 million readers. The paper is not just known for its high standards of reporting: Media buyers also rank its e-version, Washington Post Digital, as the most trusted environment for online advertising. It received top marks for its excellent value and performance, as well as its engaged and highly targeted audience.
B2B Street Fighting by Brian J. Dietmeyer is one of the five business titles highlighted this week!
Plan your negotiations with care, and you can predict 97% of what the other side will say or do.