"without realizing it, many companies have systematically taught their customers the art of blackmail."* When we approach business negotiations by tactically reacting to customers' requests, by merely giving in because they ask us to do so, seemingly disparate transactions have the effect of "rolling upward" and defining our negotiation strategy. We teach the maketplace, our customers and our competitors, who we are based on the deals we do. By rolling over in negotiations, we run into several problems:
customers believe the initial offer was a lie and don't know where the truth really beings
we fan the fire of irrational marketplace competition by setting up bidding wars
we prove through our actions that while we sell on value, we negotiate on price
Many companies train their sales forces in negotiation tactics. These "courses" obviously don't meet the mark because heads of sales organizations keep sending their troops back for more training! Other than a few stories about wins attributable to tactical training, training does not have a measurable return on investment. This "training" approach to addressing negotiation problems fails for two reasons:
there is no defined negotiation strategy -- where we want to go
there is no process for executing the strategy -- how we're going to get there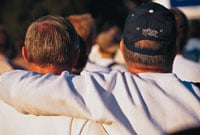 Most companies have a defined sales strategy and process and an implied or merely reactive approach to negotiation strategy and process. If companies are defined in the marketplace based on the deals they do (their behavior), this is a very large disconnect. The most successful companies have negotiation strategies that complement their sales strategy and a negotiation process that connects with their sales process.
Key steps in the proper design and execution:
the strategy is agreed upon by relevant stakeholders
the stakeholders have learned the implementation process
internal leadership is single-minded in its support of both
Would you like to know more? Click on the button below to request the white paper Negotiating Intelligently to be sent to your email.
* Danny Ertel, Harvard Business Review, May/June 1999.