At it's most basic level, the Strategic Negotiation Process is a step-by-step system that enables you to blueprint a negotiation, making it possible for you to see and understand a negotiation from your own perspective as well as that of your customer.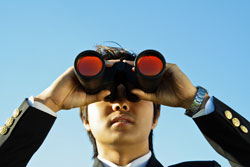 But in order to understand the process, you're going to have to start thinking differently about what negotiation really means. The traditional view of negotiation is promising, cajoling, threatening or using any of a wide variety of tactics to get what you want from another party. Negotiation, however, begins long before you sit down with someone to work out the terms of a deal. It starts as soon as you select an account and start selling and/or managing the account relationship. This is all negotiation, and redefining it as a process is what leads to world-class deal making.
A Negotiation Strategy without a Negotiation Process runs the risk of never getting implemented. A Negotiation Process without a Negotiation Strategy often results in inconsistent individual outcomes. An aligned approach will help you proactively manage your organization's reputation in the marketplace by consistently executing one deal at a time. The power is in the two sides working together.
If you'd like to learn more about the Strategic Negotiation Process, I recommend you click on the button below to request the Strategic Account Management Association (SAMA) Velocity article.