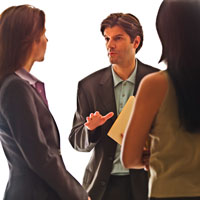 You've all heard this before: "If the opportunity is large enough, then we are more likely to reduce margins without receiving anything in return." Perhaps that's what happened on the last deal you negotiated! Only one in five best-in-class sales leaders and professionals will never buckle when a customer demands something for nothing. Four in five will concede. In doing so, they trigger irrational competitive behavior and destroy brand equity by revealing to their customers that everything they say about their value is a lie. After all, you can't claim you're the value leader when everyone knows that in the final hour your prices will sink faster than the Titanic.
Most sales professionals take a reactive approach to negotiation. Negotiation has been viewed as a response to an external force - a series of verbal tactics fired at buyers in the heat of battle. In contrast, professional negotiators - better known as procurement officers - know precisely where they are taking every negotiation long before sales professionals arrive on the scene. Sales professionals need to follow procurement's lead and take the same strategic, proactive approach.
Where do you start? Right inside your own organization. With every deparment that touches sales: marketing, operations, distribution, finance, legal, etc. Departments collaboratively set negotiation guardrails, or high and low boundaries for what a sales professional trades to win deals - i.e., what is and is not negotiable in every possible trade. There are boundless creative ways to position the terms of a deal beyond volume and money. Where you place the guardrails is critical to mapping where you want to go (strategy) and how you intend to get there (process).
In an economy that demands greater revenues year after year, organizations willing to rethink and redefine how they approach negotiation will ultimately thrive.
If you'd like to read more on this subject and on the research behind our thoughts, click on the button below to request the Strategic Account Management Association (SAMA) Velocity article entitled, Wake up to negotiation reality: Transform your negotiations and avoid commoditization.