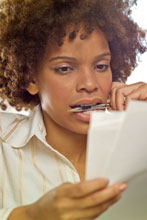 We find that one of the core problems to clarifying value is either there is a lack of a common definition of what a value proposition is and / or you have a value "statement" that is too high level, too static and out of touch with street level deal making.
Your company value is the sum of all your parts when building a business relationship with a customer firm. It is not only the quality of your products and services that create value, but even the commerical language and risk sharing in your contracts; it is the new products in your pipeline, your overall financial stability, market image, the human relationships, etc. All these moving parts might seem to make defining your value difficult, but if you see them all as value, your perspective becomes much clearer.
Unfortunately, this doesn't easily fit on a laminated card. Conversely, you haven't defined your value with this long list of impact you have on multiple levels of your customer organization for the short- and long-term. These are items that are sort of like a value "pick box" that may or may not have relevancy for this business negotiation. Think of them as sources of potential value.
The trick is not to use every item in the box every time, or to throw everything at the customer and see "what sticks," but to instead use this "variety pack" and peel off apporpriate pieces - parts that fit each specific customer given their needs and alternative to you. It's all there waiting for you. You just have to quit using a "one-size-fits-all" value template and, instead, know which items make a difference on this deal. Think! likes to call it "real-time marketing."
Would you like to know more? Request our article on value as a living ecosystem.