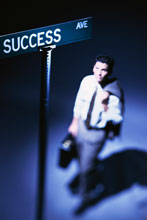 Move beyond the usual listing of tactics surrounding business negotiation and listen to an alternative concept of negotiation as a predictable and repeatable process. You'll hear about three specific counterpunches that any negotiator can employ to improve their success rate. Learn how to change any negotiation, including sales conversations, from one focused on price to one that considers the importance of value to the customer.
Some questions you'll hear answers to include:
Isn't negotiation a soft skill?
If the focus of the professional buyer is solely on price, what can I do to redirect that focus?
What are the three major problems negotiators face today?
What is meant by "I may be my own worst opponent" in any negotiation?
What are the three counterpunches any negotiator can employ?
How is selling value a problem today?
Listen to BlogTalkRadio Business World's Wayne Hurlburt's interview with Brian Dietmeyer, President and CEO of Think! Inc.