Do a search on negotiation training and you'll come up with over 2 million results! How do you know what to look for, and ultimately choose, for your organization? We'd like to bring some fresh thinking to the subject of selecting a business negotiation training firm.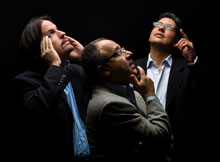 For the most part, business negotiation is considered a set of soft skills made up of reactive verbal tactics. No wonder it remains an elective in professional sales development. This mistake no longer needs to be made given the amount of margin and brand equity negotiation puts at risk. We in the negotiation industry have set our standards too low. Sales professionals are ill-equipped to stand up to the professional negotiators and purchasing officers, so it's natural for the marketplace to struggle with margin pressure. Our research finds that this trend can be easily reversed through redefining negotiation standards and setting new negotiation benchmarks.
Request the Sales Negotiation Training Buying Guide and receive the following:
Achieving ROI on your sales training investment

Five things to consider when selecting a sales negotiation training provider

Six reasons for a strategic negotiation process in your organization

What's the "it" your organization provides?

What role does technology play in all of this?
Click on the image below to request the buying guide to be sent directly to your email.