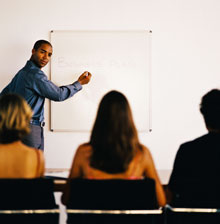 Traditional classroom training is not the only way to learn. Information Builders, a business intelligence and integration firm set out to install strategic negotiation competency into their firm to take pressure off margins and maintain customer relationships by negotiating based on business value. They wanted to reduce the time for salespeople being out of pocket for traditional instructor-led training by 50% and, at the same time, actually improve the quality of the training solution.
A blended approach of web based deal planning and face-to-face live opportunity consulting and practice was designed. A seven module, 2.5 hour web based opportunity planning tool was created to assist salespeople in blueprinting a business negotiation. These modules were available 24/7 over a two-week period. At the face-to-face consulting event, each negotiation blueprint was improved and the execution of that plan was practiced.
Monte Roy, Senior Vice President said, "What I liked best about the Think! solution was the 100% focus on live Information Builders opportunities. We put over 100 negotiations through the process and had immediate impact. Furthermore, using the blended approach of technology and live consulting we achieved these results with our sales team only being out of the field one day."
To find out more about this approach to learning and the results Information Builders has experienced, click on the button below to request their ROI Case Study.