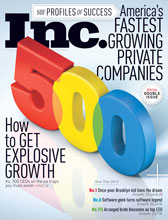 Some very exciting news to share with you! Think! has been named to the 2012 Inc. 500|5000 list of the fastest-growing private companies in the United States. Brian Dietmeyer, President/CEO of Think! states,
"Inc. Magazine measured growth over the three year period of 2009-2011. I am so proud of the Think! team for achieving this milestone in the midst of that difficult economic climate. The primary reason for this growth has been our leaders and consultants relentless resolve to adjust our value proposition as our client's needs shift. This diligence has required that we update old approaches, rid ourselves of that which is outdated and create new ones that both meet and anticipate client needs. During the period that many were pulling back, this team invested and moved forward. Thanks also to our clients who have been willing to test, adjust and update along with us"
From the Inc. website: America's fastest growers span all industries, states, and revenue brackets. They comprise franchises, do business all over the world, and are among the most-trafficked internet websites. Learn more about this elite group at http://www.inc.com/inc5000/2012/top-lists.html.