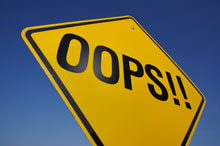 Each and every negotiation completed on behalf of your organization sends a message to customers, competitors and sales forces. You can't claim you're the value leader when everyone knows that at the final hour your prices will sink faster than the Titanic. How you negotiate is either a deposit or withdrawal from your brand equity. Giving away value tarnishes brand perception and signals competitors to do the same, triggering irrational competitive behavior that can obliterate everyone's margins.
Given the agressiveness and irrationality in the market, we were interested in seeing how companies rise to meet today's negotiation challenges. Many people still define negotiation as a series of verbal tactics fired at buyers in the heat of battle. Regardless of one's definition, negotiation begins long before then. It begins even before the sales process.
Negotiation begins with internal, cross-functional stakeholders creating agreement on negotiation "guardrails" and outcome. Guardrails set the high and low boundaries for how much sales professionals can maneuver to close a deal. The boundaries establish the range for trading in and out of a deal. Strategic negotiation is about far more than determining mere price for volume. It's about everything you have to offer that the competition doesn't, from length of contract to delivery and from follow-up to customer support and service. The list could go on and on because there are boundless creative ways to position the terms of the deal beyond volume and money.
Our research shows that sales strategy is more internally aligned than negotiation strategy. Organizations have little formal agreement on where their collectionve negotiations are taking them, while their prospects' negotiation experts know precisely where they want the negotiation to go and how to get there. This fact coupled with irrationality in the market has the potential to push the marketplace toward margin disaster while decimating brand equity along the way.
Much as sales process drives revenue, negotiation controls margin. They occasionally cross over, but negotiation either enhances or detracts from the margin created during the sales campaign. However, there is no plan for margin protection or goals for margin growth without internal, cross-functional alignment on negotiation strategy.
If you'd like to review our research, request it to be sent to your email.