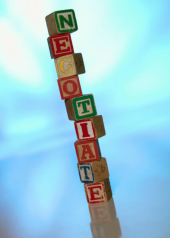 Do you believe good negotiators are born, not made? Do you think it's a matter of using tips and tricks to counteract every move the other party makes? What if negotiation is an analytical process by which you gather data and test its accuracy? And the more data you collect, the better deals you make!
"Eighty percent of what the other side throws at you, "Brian Dietmeyer says, "is about Consequences of No Agreement ('I'm better off building in-house') or trades ('I can't do it for that price'). When you look at negotiation this way, it doesn't seem quite so complicated. It also takes the emotional sting out of anything the other party says."
Blueprinting a Business Deal
Estimate the blueprint. Determine what effect not reaching an agreement will have on you and the other side. List the items each party would like to have in the deal, identifying the most and least important.
Validate your blueprint estimation. Gauge the accuracy of your blueprint estimation by using your knowledge of and conversations with the other party; the wisdom of others in your firm; and newspaper articles, annual reports, and other publicaly available information.
Use the blueprint to create value. Structure a deal in which you and the other party get not just what's centrally important to you but additional benefits that make the agreement even more attractive.
Use the blueprint to divide value. Decide how you and the other party will divvy up the items of value you've laid out in the agreement.
Read the complete Harvard Management Update article, Debriefing Brian Dietmeyer. Brian Dietmeyer is the author of two books on business negotiation (Strategic Negotiation and B2B Street Fighting) and President, CEO of Think! Inc.